Jul
27
Filed Under Latest News & Scandals | Comments Off on Army report confirms that Army sergeant profiled in The Three Trillion Dollar War was electrocuted by poor wiring
CNN is reporting that a new Army report pins the blame for the deaths of Staff Sergeant Ryan Maseth and other US troops who were electrocuted in the shower on faulty wiring by contractors.  We wrote about Sergeant Ryan in the first paragraph of the Afterword to the Three Trillion Dollar War (paperback).  As we wrote in the book, "His death occurred despite an Army bulletin two years earlier that warned of a 'serious threat' to soldiers in Iraq from improper grounding of electrical wires."
The story today:WASHINGTON (CNN) — A Green Beret sergeant was electrocuted in Iraq in 2008 because of failures by the U.S. military and a major defense contractor, which did not properly ground and inspect electrical equipment, according to a Pentagon report out Monday.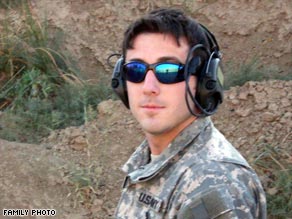 Staff Sgt. Ryan Maseth, a 24-year-old Green Beret, died in a shower at his base in Iraq in January 2008.
Nine of 18 electrocution deaths reported in Iraq were caused by "improper grounding or faulty equipment," including the January 2008 death of Staff Sgt. Ryan Maseth, the Defense Department's inspector-general found.
Investigations remain open in five of those cases, according to a summary of the report obtained by CNN.
The new report concluded that "multiple systems and organizations failed," leaving Maseth "exposed to unacceptable risk."
The decorated soldier from Pittsburgh, Pennsylvania, was electrocuted in a shower at a U.S. base in Baghdad that once served as one of Saddam Hussein's palaces.
The report found that a water pump installed by military contractor KBR was not grounded, leading to Maseth's electrocution when it short-circuited.
It found that Maseth's commanders failed to ensure that renovations to the palace had been properly done, the Army did not set standards for jobs or contractors, and KBR did not ground electrical equipment it installed at the facility.
The Houston, Texas-based company has defended its performance in the war zone from extensive criticism by Congress and has argued that it was not to blame for any fatalities.
Read the full article:  http://www.cnn.com/2009/US/07/27/military.electrocutions/index.html
Jul
22
Here is an interesting article by Mary Ridell in the Daily Telegraph, arguing that our terrible losses in Afghanistan are being sustained, at least in part, in an effort to support the unpopular government of Hamid Karzai.  Read below:
http://www.telegraph.co.uk/comment/columnists/maryriddell/5819915/Afghanistan-Our-troops-are-giving-their-lives-to-safeguard-a-rigged-election.html
Jul
12
Britain is convulsed with sorrow and many are urging a re-examination of the British role in Afghanistan following the loss of 15 soldiers in a single week — including 8 on Saturday, July 11th.  It is alleged that some of these troops died because they were deployed in vehicles that failed to meet US standards — vehicles that have already been rejected by the US Army.
Unlike the US, where the wars in Iraq and Afghanistan seem remote, the war has hit Britain front and center. It is dominating the front pages, the political debate, and the hills of Wales and Scotland are filled with Army trainees and military jet flyover practices.